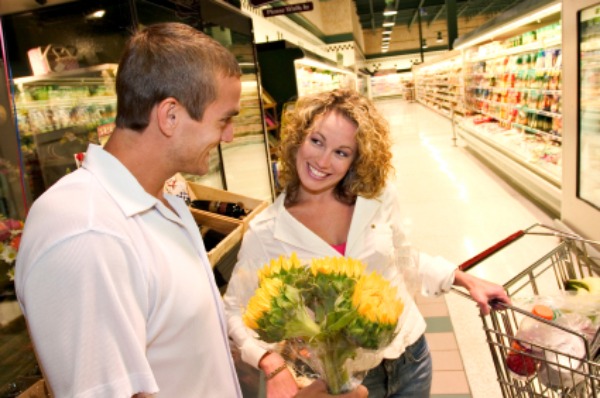 It's true! You can definitely meet your future mate while picking up some overpriced remoulade. Will wonders never cease?
If you've been looking for love in all the wrong places, it's finally time to star seeking solid places to meet men. So forget singles parties, hotel bars and nightclubs and head to your local Whole Foods — it's the hottest hookup spot around!
I'm serious. Now that I've witnessed this phenomenon occur in three separate cities — Los Angeles, London and New York – I have proof. You will meet a man at the overpriced salad bar or checking produce bins for the perfectly plump peach — and he will, most likely, be a viable dating option (at least on the outside).
'How could this be?' you might ask while inwardly wondering at my sanity. But it's true. For starters, everyone has to eat, don't they? Take an expensive supermarket that caters to singles in every single way with its fresh sushi, burritos, raw bar and gourmet hamburger options and you've got most twenty-somethings' nightly meal. Whole Foods weeds out the unemployed with their jacked-up prices, tantalizes with its tasty, organic fare and even has weekly live music sessions to make the joint seem like less of a grocery store and more of a nightspot.
Basically, what you're looking at is a prime spot for men to approach women without hesitation or weirdness. There's none of the,  'Damn, I have to buy her a drink that she might not be worth' kind of situation going on. A guy can approach a gal over something innocuous like what time of beef tastes best in spaghetti bolognese (for his sad, single self, of course)  and get her number without putting much effort in at all. Should he want to know her better, there's a coffee station and booths right inside the store. Convenient, no?
Given that Sunday night is the best time to go — we're doing our weekly shopping, which takes exponentially longer than picking up a dinner for one — my friend Jordan decided to accompany me this past week to check out the scene so I could prove my point (and, let's be honest here, so he could pick up some 'chicks'). After a few laps around he nodded approvingly and said, "I see what you mean."
While we were at the checkout counter, we started discussing a party we had both been to where the ratio of men was overwhelmingly small in comparison to the number of women that were in attendance, a ratio I did not like at all (too much estrogen overwhelms me). When we realized the clerk was smirking at us, Jordan teased aloud, "That's why you come here, then. You just want to meet guys."
The clerk, who we'll call "Bob" for privacy purposes, laughed. "She's in the right spot!" he told us, confiding, "Do you know how many women sit out in the parking lot putting on their makeup before they come in? Or how many lawyers come here for the specific purpose of meeting women? This is the new singles spot!"
Thank you, Bob, for explaining something I've known all along to a non-believer. As women, we want to meet guys in a place where we feel safe, where we know automatically that we'll find common ground. Whole Foods is that spot. By meeting cute while reaching for that last bottle of Kombucha, we already know that he has a good job, that he likes to eat healthy and that he most likely lives in the neighborhood — all positives.
There's really no downsides to meeting guys at this upscale supermarket. Just beware of how readily you give out your number, and to whom. If you go at the exact same time every week and see the same crowd, switch it up a little. You don't want to go out with one of your prospects only to meet a cuter, nicer guy the following week — a cuter, nicer guy who's seen how readily you gave out your digits to the dude before him.
As for when to go, if you live in Los Angeles, you'll be wanting to hit the market between 5 and 7:30 PM, as we eat earlier on the west coast. If you're a New Yorker, where 10 at night is an acceptable dinnertime, you'll want to grab some nosh at the hot food bar between 7:30 and 9:30 PM.Each city is different: you have to take into account the after-work drinking situation, the day and average eating time.
If you need even more proof, yes, I have been asked out practically every single Sunday night that I go to grab dinner at Whole Foods, which is quite frequently. Have I been out with any of said men? No, I haven't — but the point is, I could. Like Emily Dickinson once said, 'I dwell in possibility.' I'm somehow pretty sure, however, that this 'possibility' she spoke of did NOT include the potential to meet men over mangos, marmalades and frozen meatloaves. Just saying'…
Laura xo