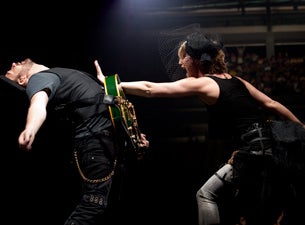 A great date-night event…even for those who don't happen to be on dates
Don't mock the world traveller, but I've lived in Los Angeles for nearly two years and have been to the hipster neighborhood of Los Feliz exactly once. That time did not include a trip to the Greek Theatre (yes, that Greek theater that Russell Brand was trying to get to in Get Me To The Greek). I've had some damn good nights in recent weeks, but this was one of the best. With good music and great people in a gorgeous setting, how can you not have a smashing time?
Let me set the scene for you. My roommate — an avid country music fan —  is having surgery, so I thought I'd surprise her with a ticket to see Sugarland; I happen to love the band as well. Lead singer Jennifer Nettles has one of those happy-go-lucky personalities that lights up a room, and the way she rocks out on stage can only be defined by one word: sassy.
Driving up to The Greek is an experience in itself. It's close to the Griffith Park Observatory, mysterious, romantic and winding with twinkly lights announcing your arrival. The first words out of my mouth were on a sigh: "I want to go on a date here!" Unfortunately for my roomie, this phrase was repeated often during the evening.
At nighttime outdoor, non-hipster concerts, I always expect to find droves of couples holding hands and being cutesy, seduced by the darkness, so I wasn't surprised to see adorable plaid and cowboy-boot wearing twosomes sneaking in kisses as they walked around the smallish venue (with a seating capacity of 5,700, it holds 9, 676 less people than LA's other big ampitheatre, the Hollywood Bowl).
I was surprised to see how many single straight guys were also there, how many huge groups of girlfriends, how many lesbians. This show had something for everyone, which was refreshing. Every age demographic was covered, every sex, every sexual orientation.
Whether you like country music or not, it's impossible to deny that it's hard to take your eyes off of a group that's so blatantly happy to be doing what they love, so enthusiastic about the chances they've been given. Nettles — who has a face that's almost as elastic as Jim Carrey's — mugged and grinned and shot pure joy at her audience for the entire 1.5 hour show.
I've never been a real girl's girl, but it was pretty damn great to see girl friends (of the platonic variety) singing the band's empowering words to one another. They believed Nettles. They were living the anthems, at least for those ninety minutes.
You are, of course, getting examples. In Settlin', Nettles sings: Fifteen minutes left to throw me together for mister right now, not mister forever. Don't know why I even try when I know how it ends, looking like another "maybe we could be friends". I've been leaving it up to fate, it's my life so it's mine to make. I ain't settling for just getting by, I've had enough so so for the rest of my life. Tired of shooting too low, so raise the bar high. Just enough ain't enough this time. I ain't settling for anything less than everything.'
When she sang (Sh) It Happens, it was gratifying to see everyone in the crowd — guys included — belt out the chorus: "Ain't no rhyme or reason, no complicated meaning. Ain't no need to over-think it, let go, laughing. Life don't go quite like you planned it, we try so hard to understand it. The irrefutable, indisputable fact is pshh, it happens."
You already know that my mission statement – one of my two catalysts for creating this site — was their song Every Girl Like Me. If you need a refresher, here it is: "I am not perfect, but I know I'm worth it. I gotta believe that there has to be a you, for every girl like me."
Did I meet a hot cowboy at the Sugarland show? No — and I didn't care to. The night wasn't about that. It was about really taking joy in something simple. It reminded me that love, while a necessity, comes in all forms, and that you have to really love yourself before you can love someone else.
For everyone who's afraid they won't find love, stop looking. It will come to you. Stop worrying about the future, and live in the moment. Don't miss out on today because you're thinking about tomorrow.
Laura xo
I'll leave you with this medley that Sugarland performed last night — proof that sometimes what you expect isn't what you're going to get. Meaning: they might be a country band, but they performed Britney Spears, Cee Lo and Beyonce fabulously. You never know what you're going to get…